Sea Shell Wedding Invitations
If you are planning to exchange your wedding vows at a beautiful beach location in sunny Hawaii, along the Australia coasts or somewhere closer to home then you can't go wrong with a shell themed diy wedding invitation. You can make your own gorgeous beach invitations, with an interesting shell shape to accent your invitation.
Seashell Invitation Ideas
There are lots of different options to consider when thinking about incorporating a shell into your wedding invitation design. Here are a few ideas and tips to help you with your DIY invitation.
Use a real shell. This sounds like a great idea, just keep in mind the costs of postage especially with a large heavier shell. Make a single test invitation and check postage costs before you commit to making 100 or more invites. For a large heavy shell you may be required to post invitations in a small box as opposed to an envelope so that the shell wont break in delivery.

Make a stamped impression of a shell on to card with a rubber stamp, cut it out and attach it to your invite. Or stamp directly onto the invitation card itself.
Cheap acrylic stamps can be found on Ebay, Scrapbook and Stamping websites.
If you are familiar embossing inks and powders they can add texture and make them stand out. I would highly recommend embossing.

Use a paper cut out (or die cut) stickers.

Search for shell clipart on the internet for making printable invitations. Try to find clipart that is of an acceptable resolution for printing, that is around 300 DPI. Most free clipart that you find on the internet is for use on webpages and websites and are not the best quality for print. Vector stock and photo stock websites sell images of pretty much anything you want and is a good place to look if it fits into your wedding budget.

Ding bat fonts are great for printable designs as you can resize the font and not lose any of the print quality. A couple of Free personal use fonts with some nice shell designs are
KR Down by the Sea font
Ocean lacy by Lacy
Beach Shell Wedding Invitations Tutorial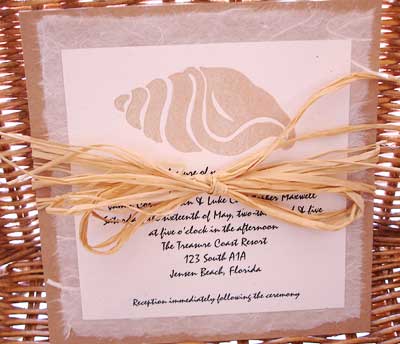 This is a tutorial to make a Stamped shell invitaiton. Although labor intensive, I love the look of this beachy seashell invitation. It is made from a selection of craft items that you can find at your local Crafting store. The key element is the kraft colored cardstock which has a sandy tone. This layered invite also has a layer of mulberry paper, and a layer of cream card that has been stamped with the impression of a lovely seashell and heat embossed, then tied with natural color raffia.
Supplies used:
Paper trimmer

Therm O Web Clear Mounting Tabs

Seashell stamp, tan colored embossing ink and clear embossing powder, heat embossing gun

Tan Kraft cardstock cut to 6.25"x6.25"

Natural mulberry paper cut to 6.25"x6.25", edges "painted" with water and a small
paint brush then hand torn

Natural/cream color kraft cardstock cut 5.5x5.5

Raffia
How to assemble:
Step one
Prepare you cards and mulberry paper. With your paper trimmer (or craft knife and metal ruler. The mulberry paper can be a little delicate to work with so be extra patient and careful.
Step two
Create the invitation details using MS Word on your computer and print directly on to on to the cream colored cardstock in black ink on your home printer, I used my ink jet printer. Leave enough space at the top of the card to allow for the shell to be stamped and embossed.
Step three
Stamp the shell on to the top half of the printed card with embossing pigment ink. sprinkle the embossing powder directly on to the stamped image and then heat emboss the seashell until set.
Step four
After printing take the mulberry paper, center it on top of the tan kraft cardstock and stick it to the bottom card with the mounting tabs. Take the top layer (printed and stamped cream card) and adhere it to the center of the mulberry paper layer.
The invitation is finished by tying several strands of raffia around the middle of the invite.

Made by Debbie Maddux-Vargas
Miami, Florida USA
Return from Shell Wedding Invitations to see more Beach Wedding Invitation ideas