How to make a Beach Wedding Invitation
Beach and Tropical weddings have got to be the most relaxed and casual weddings you would attend (for the guest at least). The last beachside wedding I attended had all the guests bare foot in the sand! You can't get much more casual than that. If you are planning a beach side venue to exchange your vows you should consider using a relaxed, fun tone for your wedding invitations.
There a lots of little touches you can add to your beach invitations to set the theme. Shells and tiny starfish that you can purchase from a craft store. Raffia has a beachy feel to it. Invitations in the shape of flip-flops are totally en-vogue and are great for a laid back beach wedding or maybe an invite in a bottle. Hibiscus flowers and palm fronds make for great graphics for invitations designs.
Click on the beach invitation for more details.
Starfish Shell Wedding Invitations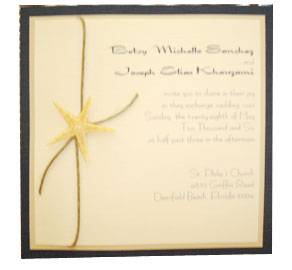 This was an invitation that I did for a friend's beach theme wedding about two years ago. It's made from beautiful Japanese Tsumugi cardstock, twine, and a real star fish for a whimsical feel.
Supplies used:
paper trimmer

Therm O Web Clear Mounting Tape

Tacky Tape

Crepe Indigo cardstock cut 6.25x6.25

Tsumugi Beige cardstock cut 5.75x5.75

Tsumugi White cardstock cut 5.5x5.5

Twine

1.5 inch Star Fish
**all paper purchased through Hankodesigns.com
**Star Fish purchased through qualityshells.com
Assembly:
The invitation information was created using MS Word and printed in a navy blue color on my home ink jet printer. Twine was wrapped and knotted around the white Tsumugi cardstock then adhered to the beige and navy layers. The star fish was adhered using tacky tape. This invitation was mailed in an invitation box to prevent breakage with excelsior and mini shells for presentation.
Debbie Maddux-Vargas
Miami, Florida USA

Maori Wedding Invitations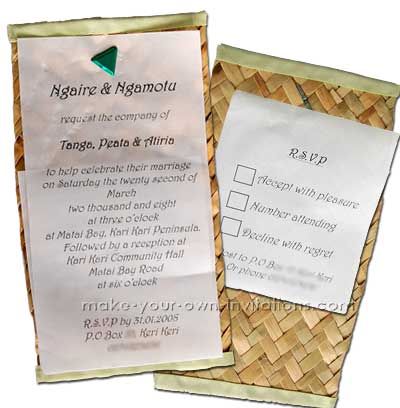 These are invitations to my partners cousins wedding which was held in the the beautiful Northern beaches of New Zealand. The invitations themselves were made with a tribal flavour. They are made from woven flax in the style that is use to make Maori kete (bags), whariki (mats) and other traditional items. The flax backing were trimmed with lime ribbon and the invitations themselves printed on to vellum paper and attached with a triangle shaped brad. The invite was perforated at the bottom with the lower section containing the RSVP details folded under the upper half.
The envelopes were closed and sealed with a small paua shell charm.
Now that you have your beach themed invitations ready to go you will want to give some thought to the wedding event itself. Time to start planning and preparing your special day to ensure that all those little details are taken care of. We used Beach wedding themes website as our 'go to' website when scouting around for information to plan a destination beach sensation. There are lots of beach wedding ideas and tips that we found useful.