Spiderman Invitations for Birthday Parties
Having a Spidey birthday party with superheroes and web slinging fun. Then make sure you get your party started right with some super cool homemade party invitations.
Spiderman birthday invitation ideas
Grab some spiderman clip art off the internet and create your digital invitations on your computer.

Make spider shaped invites from construction paper. Alternatively you can make them in the shape of a spider man mask.

Take a photo of your child in a spiderman costume and make a photo invitation

Cut out some spider shapes from black felt (get it from a craft store) use pipe cleaners for legs and stick on some googley eyes - the more the better. Print the invitation on to white copy paper and pin it to the top or underside of the spider.

Make postcard invitations to save on postage. You can get 100 post cards printed at a great price with Vistaprint.com

Grab a picture from a coloring book and scan and use the image for your invites.

Make a Comic book cover invitation with the wording in speech bubbles
Spiderman invitation clip art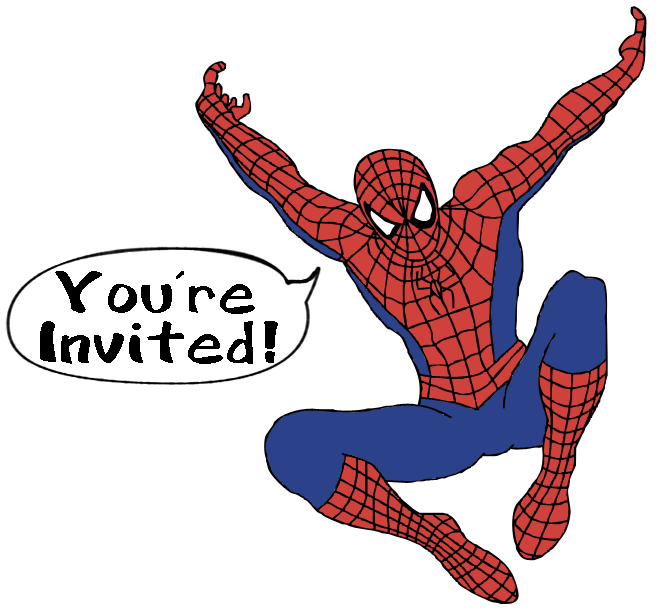 You're Invited! clip art image of spiderman leaping through the air.
Spiderman party invitation wording
Spiderman and Jesse Want YOU!
to help fight the villains and save
Jesse's birthday cake from destruction
Report to Spidey Headquarters at 2.00pm
on Saturday, July 27th for fun, games and ice cream
It will be off the wall!
Jesse's house
532 Hampton Rd
RSVP 236.256.2226
***
Some cheesy one liners you may like to use for your invitation verse.
wall-crawling fun

web-slinging, wall-crawling

RSVP by June 5th, Say you'll hang out with us!

crime fighter
Take a look at our Superhero invitations for more great invitation ideas or request a custom made invitation that we make for you to print yourself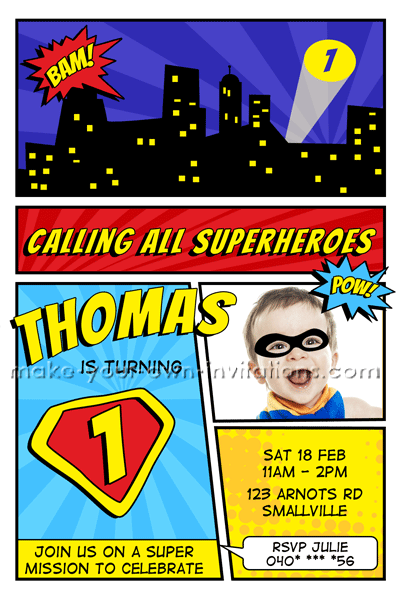 Our Custom Superhero Invitation Design
Return from Spiderman Invitations to How make Kids Birthday Party Invitations