Make Superhero Invitations
Super Hero invitation ideas
An good idea for your invitations is to incorporate the emblem or logo of your favourite hero into it. The batman logo, the superman S, etc.

Superman invitation - Get some yellow construction paper and cut out a card in the shape of the superman emblem. Cut out a red 's' or use the birthday boy or girls first initial instead and stick it to the front. Put the party details on the inside.
Superhero invitation example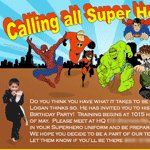 I made these superhero invitations for my friends son Logan who is celebrating his fifth birthday with a superhero birthday party. We wanted to to create an invite with all his favorite superheroes and to include a photo of the birthday boy. I made a backup kid superhero in case we couldn't find a good photo.
I grabbed some pictures of a few super heroes and created individual vector shapes for each one. This took a little while to do for each one but I did it so I could resize each hero without losing any image quality, I can also now use the heroes in any invitations or artwork I want to in the future.
Once I had all my heroes I put them all together along with the title "Calling all Superheroes" I made cool background and added the invitation detail text to complete it.
In a nut shell
Created vector shapes for each superhero.

Created superhero text Title with this tutorial.

Used a free Photoshop skyline brush set that I found online here.

Created a background with simple gradients and a sunburst overlay.

Added the text in white writing (font is )

Took a photo of the birthday boy and cut his image out and stuck it in the foreground. It was good that they had a pick in his karate suit in a very cool action hero fighting pose.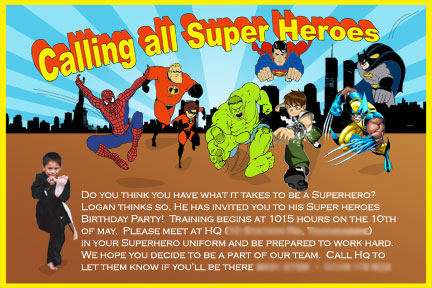 Superhero Invitation Wording
Some handy tips and wording ideas for your invites. If you have any to add then please let us know via the contact form.
Incredible's Type wording
Do you think you have what it takes to be a Superhero? 'name' thinks so! He has invited you to his Super Heroes Birthday Party! Training will be at 1400 hours on the 8th of May
Want a Customized Printable Superhero invitation
If making your own super invitation sounds like too much super work then you can order one of our super cool invites that you can customize with your own party wording and a photo of the birthday boy or girl.
Order this superhero invitation as a print it yourself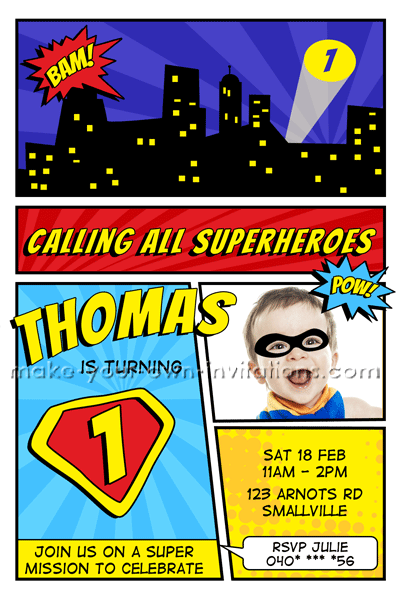 Our Custom Superhero Invitation Design
Return from Superhero Invitations to see more kids birthday invitations