Homemade Tea Party Invitations
Yes, it's a tea party. The very idea to me conjures up images of Alice in Wonderland, a sneaky looking cat with a huge grin, and a white rabbit with his pocket watch. Days gone by, or so I thought. The tea party is alive and kicking. Our children have them, The gals (or ladies) congregate now and then for one, they make good fundraising events, and they still have that big one in Boston. So here is our section of hand made invitations for the Tea Party.
Tea party invitation ideas
Images or charms you might want to think about using when making your party invitations: Teacups, saucers, a kettle, tea bags (why not use the real thing) the Mad Hatter, Alice in wonderland. Don't forget you can always throw a coffee party.
Get your party invitations printed on to a ceramic saucer. You can buy special paints to paint on to ceramics. You can grab a bunch of 2nd hand saucers from garage sales and op shops.
Cut out your invitations into the shape of tea cups or tea pots.
Buy a cool rubber stamp and stamp an image.
Doily invitations: Print your invitations on round paper or card smaller than a paper doily. Glue your invitation to the center of the doiley.
Mad hatters tea party - make it in the shape of a hat or pocket watch. Maybe even create a playing card of the queen of hearts and have the information on the reverse side.
If you are interested in basic party etiquette when hosting your little tea party then check out these tea party etiquette tips. You will find a whole heap of menus and theme ideas as well.
Tea Party invitation wording
Spring Tea
Please join me in my garden
for tea and scones
Monday, June 2nd 2008
at 10:00am in the morning
regrets only to Julie: 256.254.2356
Tea party clip art for invitations
Download our free clip art. Print the images and cut them out to use as embellishments or simply insert the picture directly to your digital invite made on your computer. We have several printable images that you can use so search our tea party clip art for an image to suit your invites.
Tea party invite samples
Click on the invitation link to see more details on how each invite was made.
Spring Tea Party Invitations
These gorgeous invitations to a Garden Tea were made by with supplies that Alisa received in her Vintage Party swap goodies pack. We can see some classic vintage images of a fine young lady on the front of the invitation with an embellishment in the top right corner made up of ribbon, buttons and roses, so simple to do. The details are on the reverse side with a banner and image of a tea setting.
Alisa Jane
Allen, Texas
Tea Note Card Invitations
I made some tea cup cards that were used for invites. I had to do 100 of them. :)
Bethie
South Orange County
Biggest Morning Tea Party Invites
These invitations were simple enough to make.
Beige card printed onto with the home printer on the inside. On the front of the card is a teacup that was hand drawn on to handmade paper from k-mart and cut. It is a very basic easy to draw a plain cup with no flashy bits on it. The writing on the inside of the card was done with word. There was an insert with so additional information about the Australia's Biggest Morning Tea which we were fundraising for.
Michelle,
Berri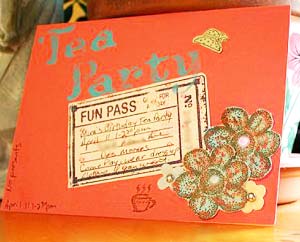 Tea for Two invitaitons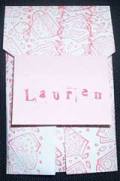 These were our handmade tea party invitations and place cards for my daughter's "Tea for Two" (a second birthday party) I used stamps from Stampin' Up; some alphabet stamps from PSX; a roller stamp from 'stampin' around', some pink Bazzil linen cardstock and the 2peasinabucket flea market font for the invite and I used the same stamps on an invitation size envelope for the place cards.
Brooke Hildebrand Clubbs
Jackson, MO
If you have made your invitations and feel the need to share them with us then by all means send them through via the contact form. We'd love to see them.