Make 4th of July Invitations
Are you hosting a fourth of July celebration this year, perhaps a bbq, potluck or party. We have a few ideas to help you with your invitation project.
Invitation ideas
Red blue and white are definitely the invitation colors for this party. Get inexpensive gift wrapping paper to use to make your invites.

For a bbq, an apron invitation card is a cool idea. create an invitation template of the apron and tie some string to it. write the party info on to the apron. You could also type the info onto a piece of card and slip it into a pocket on the front of the invite. Download our apron invitation template and read the tutorial to make your own invites.

Make a small banner to send to your guests. Cut out three triangles one red blue and white. On each of the banner pieces write or type your party details. Punch a hole in the top corners of the banner and tie them together with string.

Flag accents will work well made from small strips of colored paper and toothpicks. Make a flag invite - print out a picture of the star spangled banner and insert the wording onto the back. Get the kids to color in the flag with crayons.

Fireworks invitations embellished with sparkly glitter will set the tone for an independence day celebration. sprinkle loose glitter in the card so when the card is opened the glitter falls out (a bit messy but cool)

Send a couple of sparklers along inside the envelope.

Star cookie invites - cookies decorated with patriotic colored icing and packaged in clear cellophane along with a star shaped invitation will be sure to impress your friends.

If you are making digital invitations then the motifs you want are: fireworks and sparklers, American flag, bbq's. apron, picnic, potluck, stars and stripes

Make pinwheel invitations from

An Uncle Sam invitation with the words "I want you to celebrate the 4th of July"

See these save the date cards for a patriotic invitation idea
Fourth of July invitation clipart
You can make your own invitations on you computer with programs like word so we've created a couple of clipart images that you can use to embellish them. You can use the second 'You're invited" clip art for any patriotic themed invitation.
This clipart was created for your personal use only. Please do not use for commercial purposed and do not distribute.
| | |
| --- | --- |
| "4th of July" clip art image | "You're Invited" 4th July image |
4th of July invitation wording
Try out some of our invitation wording samples. Make sure your invitations state whether or not the guests are required to bring a dish or if the food will be provided. Also if alcohol will be served or if it is byo.
Sparks will fly
On the fourth of July
Join us for the Ranfords annual
Independance day Party
The fun blasts of at 4pm
Please bring a dish to share
Soft drinks provided
The city fireworks at 9pm
Address
rsvp: Beth and James
123.456.7890
***
Happy Birthday America!
The time is here
The bbq of the year!
4th July invitation Samples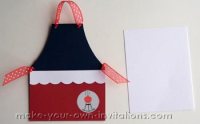 Barbecue fourth of July invitations