Jungle Animal Print Invitations
Wild animal prints like leopard spots, zebra and tiger stripes are great for use as a background for a girl or a womans birthday invitation. They can be both sexy and fun loving. Check out a few ways you can make your DIY invitations with
Jungle invitation ideas
Use them for baby showers with a jungle or animal theme

Leopard, zebra, cheetah and giraffe prints are readily available as gift wrap, craft and patterned scrapbook paper

Purchase some faux animal print papers or material from a craft store, you can actually buy paper that feels like fake animal hair.

Create an animal pattern border for a classy invitation look.

Wording phrases include: wild kitten, Wild cat
Digital 30th Birthday Invitation idea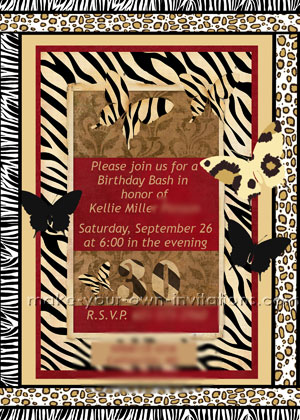 Jungle animal print invitation
I used a digital format to make my daughter's 30th Birthday invitation.
I made it with Photoshop Elements. You can create fantastic invitations with the many digital resources available. some patterns I bought were as little as $2 dollars. Search the internet for free digital scrapbooking papers.
I used Cherie Mask at Two Peas In a Bucket elements, and DAISIE elements for the leopard prints and zebra prints. Acrylic alphas using Group with previous to cover the number 30. Enjoy.
Made by Sheila Miller
Meridan, MS
30th birthday invitation wording
Please join us for a Birthday bash
in honor of
Kellie Miller
Saturday, September 26
at 6:00 in the evening
30
R.S.V.P phone number
Related Invitations
30th Birthday Invitations
30th birthday invitation wording
Birthday Invitations