30th Birthday Invitations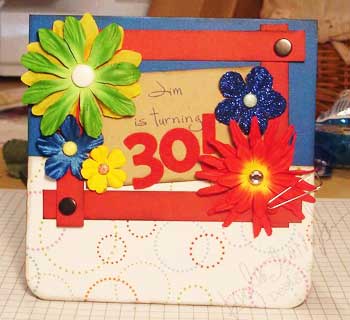 Another Milestone birthday event that deserves some extra special invitation attention. This is one birthday occasion that I have recently celebrated myself... If only I had seen all these cool invitations before then, I would have had the best invitations ever! Oh well, there's always 40 and 50 to look forward to...sigh. Have a browse through our gallery for something to inspire you.
30th birthday invitation ideas
Girls night out - ladies in their 30s are only just hitting their stride. Think style, glamour, sparkle, flirty fun when planning your invitations. An image of a cocktail glass will set a good tone for a ladies night. Or some wild jungle print invitations for fun. Leopard and zebra prints are awesome.

For a fun and casual birthday why not make fun of the fact that your 'getting old'

Ticket invitations are always fun and are suitable for any age birthday.

What was your era growing up as a kid. for me it was the eighties - pacman, space invaders and Jem and the holograms. Find some images that bring back the memories for you and your aging friends. lol. In case your memory is failing you, you can check out if you were an eighties child

Make a collage photo invitation with photos of you from each era, say every 10 years or so starting from when you were just a little baby.
30th invitation wording
The wording for any invitation will always set the tone for your party celebration, formal or casual, It is best that you spend a bit of time selecting just the right thing to say.
As long as you have the essentials - name of guest, venue, date, time, rsvp details - you can't really go wrong. See more samples of 30th birthday invitation wording
From Michaels Graveyard invite below
The Afterlife
The party to end all parties
Michaels 30th Birthday
At the Philharmonic, St Mary's St, Cardiff
Saturday 30th October
8pm - late
Join Us
30th invitation tutorials and
See some of the homemade invitation examples that our readers have made for their BIG 30. If you like what you see then click on the invitation to see more details about how it was made and the products that were used.
The Graveyard Invitation
This very cool 30th invitation was made by Michael. I don't know exactly what program it is that he used but it is likely to be Photoshop or something similar. This is some very talented work that's for sure! I will try to squeeze out some more details from him about how he made this invite...
It was so long ago (showing my age now) when I made this invite that I really couldn't tell you what font that is that I used. I'm thinking it might just be an ordinary serif one, but with some shadow effect on it. It's been so long since I used Photoshop!
The rest of it: tombstone, grass and sky are all stock images pasted poorly together and lots of inexpert clone stamping. I wanted it to look surreal so didn't worry too much about the light being wrong. The sky had a purple filter applied to it - we don't get skies like that in Cardiff!
Handmade by Michael Gilby,
Cardiff, UK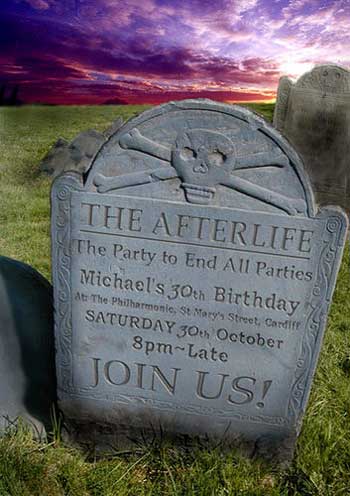 ---
Jim's 30th Birthday Invitations
A 5x5" invitation made for hubby's 30th Birthday bash.
Supplies:
Bazzill - red, blue, and tan cardstock

Me and My Big Ideas - patterned paper

Prima - flowers

We R Memory Keepers - snaps

American Crafts - felt letters.
How to make this invitation:
Cut a piece of blue cardstock to 5" x 10" for the base and fold it in half.

Cut patterned paper to 2.5"x5" and adhere to base.

Round bottom corners. Ink Edgdes.

Print sentiment on kraft cardstock and trim to 2" x 3", ink the edges and adhere.

Cut (4) 5" x 4" strips of red paper, ink edges and frame the sentiment. Apply felt numbers. Fix brads to flowers and adhere
to card.
Created by Kadee Morrison
San Diego, CA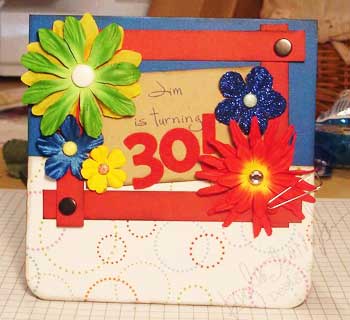 Turning 30
Customized printable invitation
If you don't want to make your own invitations but still want something that has been personalized for your 30th extravaganza then you can order one of our Flirty 30 Zebra print invitation designs that you can print from the comfort of your own home. You can also print them off at your local photo shop for around 9c each.
We will personalize your invitation with a photo and your party wording. Any of the colors can be amended and we also have other animal prints including a tiger, loepard and cheetah print designs.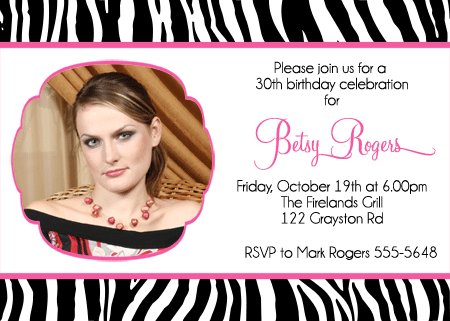 Zebra Print Invitations