Free BBQ Clip Art for Invitations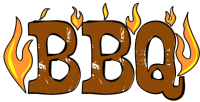 If you are making your homemade bbq invitations on your home computer, then these bbq related clip art images will come in handy. Simply right click the image that you want and save it to you computer. Insert it into your invitation document along with the party information (you maybe making this in MS Word, Works or some other word processing program)
Alternatively you may choose to print several clip art drawings onto a sheet of white card or paper, trim around the edges leaving a small border and stick it on to your invitations with double sided foam tape to give it a 'pop' effect.
These free clipart images are intended for personal use only.

Barbecue clipart picture

Barbecue invitation clip art with the text
"Join us for a BBQ"

"King of the grill" bbq clipart with a couple
of barbecue utensils.

Plain old BBQ in a chunky brown font with
fiery flames everywhere

A silhouette of the flipper and bbq fork
good for use as a divider on your invitations

hotdog clip art image
If you have a drawing you would like to share as free for use clip art then send it over to me and I will convert it to a digital clip art image. send me a note via the contact page.