How to make House warming Invitations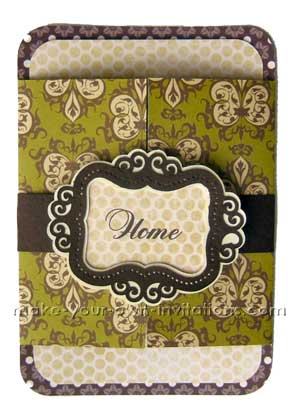 Erin Bassett shows us how to make house warming invitations with the Silhouette Machine. Erin's shares her wonderful handmade card making skills on her Creative Blog so be sure to get over there for some inspiration.
Embellishment ideas
Supplies needed
2 pieces of coordinating patterened cardstock
2 pieces of coordinating colored cardstock
Silhouette Digital Craft Cutter Designs (card_2120, frame_C2009081700)
Font (Zither Script, Comfortaa Bold)
Color printer
Directions:
Step one
Using the Silhouette Digital Craft Cutter, cut out the card, the card insert, and both pieces of the frame on the cardstock of your choice. (For detailed instructions on how to cut out shapes for this card with the Silhouette, please view this video tutorial.)
Step two
Cut out a 9½" x ¾" strip of coordinating paper for the band that will go around the card.
Step three
Print out your card details on the card insert.
Step four
Using a scrap of the same paper as you used for the card insert, print out "Home" on it for the front of your card. (Make sure you leave enough room around your word so that you have extra space to center this piece of paper under your frame.)
Step five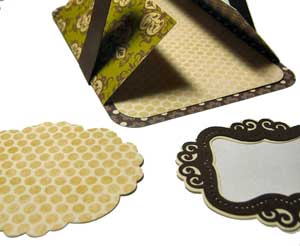 Get all of the pieces for your card ready and in front of you.
Step six
Center your card insert and adhear it to the center of the card.
Step seven
Take the outside of the card and fold in the "wings".
Step eight
Take the 9½" x ¾" strip of cardstock you cut and fold it at 2¾" and at 6¾". You want the ends to overlap. (Make sure you do not fold this too tightly around the card…you want it to be able to be slipped off easily.) Glue your overlapping ends together.
Step nine
Layer the two frame pieces over one another and adhere them together. Take your printed "Home" paper and center the word under the frame. Trim as needed and adhere it to the frame.
Step ten
Glue the completed frame on top of the band where it overlaps.
Once that dries you should be able to slip the band on & off the card as needed.
Now you're finished! Congratulations on making such a fabulous card!
Made By Erin Basett
ErinBasset.com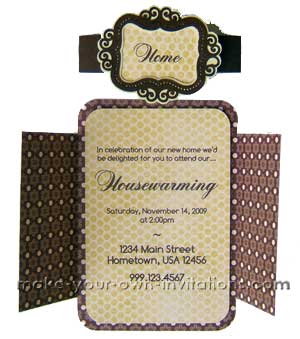 Homemade House Warming Invitation
Thank you so much Erin for sharing your talent with us. We hope to see more of your fabulous invites very soon.