Luau Invitations
Are you hosting a luau that you want to make your own homemade invitations to send out to all your friends and family. Whether it be a beach party in your backyard or near the surf, make sure your invites set the right tone for the party. Lets explore some luau theme ideas to really make our invitations stand out and make a solid impression.
Pretty up that invite
Use any of the following to embellish your invitations to give them that special touch. Lumpy bumpy embellishments like raffia ribbon, metal charms, shells and ribbon gives your invites extra dimension that looks great. Craft stuff like stickers, rubber stamping and computer clip art are easy to use and can look fabulous too. Shop around for Imagery of:
Grass skirts, Hawaiian shirts, hula girls, palm trees, leis, tiki torches, coconuts, cocktails, hibiscus flowers, ukulele or anything beachy should be OK,
Think outside the square and send your guests a message in a bottle. Roll up your invitation and pop it into a small bottle with a little sand and glitter in them.
Beautiful Hula dancer Invitation

I made these invitations on my computer in Microsoft Word with some clip art images from the internet see more details on my Blues Clues Invitations.
Becky Bokern
Belleville, IL
Cute Birthday Luau Invite
This invitations was by Max and Rica for their daughters first birthday The background is of some beautiful flowers on pink. I love the photos that have been added. this is a nice touch and they look great!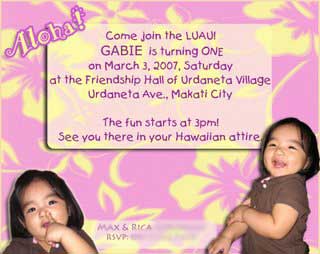 handmade by Max and Rica
ricageronimo.blogspot.com