How to Make Circus Party Invitations
Step right up, step right up. We're having a carnival themed birthday party with our own big top and have a few ideas to create the best DIY Carnical party invitations.
When I think of the circus it immediately brings to mind a Big top, clowns acting silly, performing elephants, popcorn, lions and ringmasters not to mention flying trapeze artists. So much inspiration that you can draw from to create the perfect design for you homemade invitations. Lets go through some of them.
Circus party invitation ideas
Big top invitations
You can use a big top in a couple of different ways.
Use colored card or paper to cut out the shape of a basic big top circus tent to create a card. Write the party details on the inside of your card
Find a suitable big top clipart image that you can print from the internet. Print it on to white cardstock. Make a cut in the tent so that it can open up. glue a piece of white card to the back of the tent, open the side flaps and write the party information on the reavealed white card. Children will enjoy opening up the tent to find the invitation inside.
Carnival ticket invitations
Ticket themed invitations are a very popular option. Create a ticket with you computer and word editing program. It can be as simple or as detailed as you like them to be.Add circus themed wording like "Step right up", "Come one, come all", "Admit One" and "Ladies and gentlemen, welcome to Martha's birthday celebration"
Carnival Clipart invitations
Browse the internet for clipart images of circus related items. Arrange them in a printable invitation along with your party wording. Look out for pictures of performing animals like lions, seals, elephants, monkeys, white horses etc. Big top tents with a pennant flag on top, clowns and acrobats.
Circus invitation wording and phrases
Make sure you word your invitations in a fun and playful way to keep in line with the party circus theme. There are plenty of creative ways to invite your guests. Here are a few ideas to help get you started. Mix and match our wording ideas until you are happy with the resulting wording.
First, invite your guests
Step right up, Step right up (roll up, roll up)
Come one, come all, Martha is turning 6.
Ladies and Gentlemen, Children of all ages. We give you Frankton's 5th birthday
One day only!
Clown around with us under the big top
Step right up, let's have some fun, Georgia's turning 1
It's Michael's birthday spectacular!
Here's your ticket your on your way to help us celebrate a special day
Cirque De "your surname"
Ladies and Gentlemen, the Chelsea family presents, Carolina's 5th birthday celebration
Advise of carnival party details - time, date and location
Please join us under the big top, 1532 Strongman Drive ...
The show begins at 3pm
Are there any special instructions or extra info
Valid for one performance only
Come prepared to clown around
Admit one
Don't forget to include RSVP information
rsvp to Ringmaster Sydney - 5551111111
rsvp to join our troupe
Circus invitation fonts
For your printable circus invitations you will need to choose a circus or carnival themed font. There are plenty of free fonts. Here are a few of our favourite fonts that we like to use on our own invitations.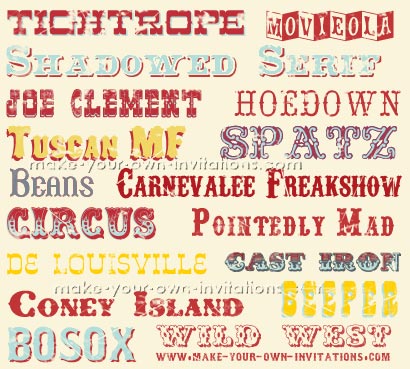 List of Carnival and Circus themed fonts for invitations
Note that these fonts are free for personal use. If you are unsure of the terms and conditions of a freebie always double check the authors terms and conditions.
Homemade Circus party invitations - examples and tutorials
Click on any of the links below and be inspired by examples of home made carnival invites made
How to Make a Circus tent invitation
Supplies
Circus themed scrapbooking or patterned paper ( Jill used Big top papers from TaDa Creatives)
Glue or double sided tape
scissors, thread, push pin
bakers twine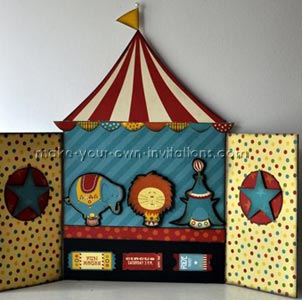 Step one - Make a gate fold card from card stock. decorate with your patterned papers.
Step two - Cut a triangular piece of card or paper for for the top of the tent. Attach a small triangle flag to a push pin and insert the pin into the tent body.
Step three - Embellish with cut outs of circus themed characters. This is where scrapbooking paper comes in handy. You can often find a repeating patern of characters that you can cut out and utilize.
Step four - Write your party invitation wording on to the back of the card. Alternatively you can print the wording on to a separate card and slip it into the gatefold card. Close the side flaps and tie it together with bakers twine, wool or string.
Made by
Jill Sarginson
Beyond the invitations
Ok, that's the invitations done. Now it is time to start planning all the fun stuff for the par-tay!! For decoration, games and party favor inspiration we found these good ideas this Pinterest Board
Good luck with your party planning!