Homemade Wedding Shower Invitations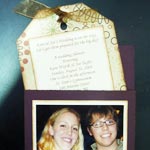 These easy to make wedding shower invitations were handmade by Katie. Making your own Wedding shower invites is a great idea and a good chance to give all your guests a glimpse of who you are. Since the Wedding invitations are likely to be ultra formal, this is a good opportunity to keep it casual. A photograph of the affianced couple would make an appropriate accent here, you can add a picture of the two in love, participating in their favorite activity or just hanging out at their favourite spot. Take a look at these pocket photo invites that Katie made her future sister-in-laws wedding shower.
Materials
Bazzill Cardstock - eggplant

Scrapbook patterned paper - Bella Ave range (family circle, I believe)

Ribbon

Crafty tools - glue or tape, scissors, ruler etc.
How to make the invitation
The pocket was actually a die-cut that I used at Scrapbook Mania in Canton, MI were I work. You can make your own pockets with the bazzill cardstock (or any cardstock) Try out the pocket invitation template here on MYOI.
The tag with the invitation details was cut from the scrapbooking paper. The details were printed on to plain card, trimmed to size and adhered to the tag. Tie some ribbon to the tag to embellish.
The photograph on the front of the pocket can be printed cheap at an online photo lab. Crop them to a good size then cut a matt slightly larger than the photo and stick the photo to the matt with double sided tape or other adhesive (avoid wet glue else the photo may buckle)
The wedding is taking place in the fall and the dresses are eggplant so they were the perfect invites. Everyone loved the picture on the cover, and the adorable pocket made the invite extra special. I thought the invites gave the guest a closer look at the couple!
Made by Katie Yuskowatz
Wyandotte, MI