Homemade Train Invitations
Choo choo choo, we want to party with you! All aboard for a birthday party celebration (hey! that's some good invitation wording for a train invite right there!) Are you looking to make a train invitation for your little boys birthday (or little girl of course) Then you have come to the right place.
Train invitation ideas
Make train ticket invitations. See below for wording ideas and see our ticket invitation section for ideas and templates.

Thomas the tank engine is a popular theme for children's birthdays. Make your invites with similar color scheme. Grab some free clip art off the internet and use your word processing program to create your party invite..

Why not make a two or three piece invitation with a couple of trains tied to each other with a piece of string or ribbon, the party details can be spread across the train sections.
Train invitation Wording Examples
All aboard!
Patry time - Train boards at:
Parte finish - Returning at:
Where is the party - Smith station (use your surname)
RSVP to: The Station master John
Wording for a ticket invitation
Grab a train ticket and use the wording as a guideline for your invites. See our examples of train ticket invitation wording

Train themed invitation examples
See some of the ideas that other readers have used for their parties.
Choo choo invitations
This is a set of birthday invites for my nephew. It has been made with digital scrapbooking and card products from different designers. You don't have to be a whizz graphics artist, you can simply purchase the pretty designs and put them together with a software program like Adobe Photoshop Elements.
The text is written in Indonesian, A poto of the birthday boy has been added in one of the cabooses. The envelope was hand made with coordinating paper.
Credits: Clickity Clack by Jacque Larsen Doodle, Dandy Collection Biggie by Amanda McGee Drop Shadow by Traci Murphy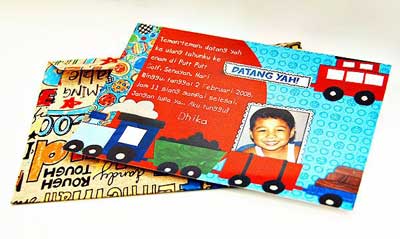 Make a train party invitation
Want a custom printable invitation
If you don't really want to make your own invitation then order one of our custom train photo invitations. We can personalize the invite with a photo of the birthday boy or without. We will also add your party details. We'll send you the jpeg file to print at a photo lab of your choice (cheap as chips to print them this way) Or if you want you can print them from your own printer at home then you can do that.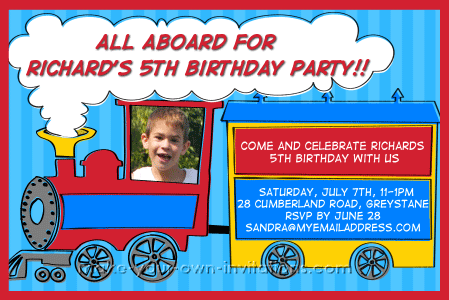 Train photo invitation