Create Birthday Invitations for Boys
Be inspired to create birthday invitations for your little boys birthday party. Make his party an event to remember, starting with the invitations. You don't need to go out and purchase expensive custom invitations to set the tone of your party with style and fun. You can create cheap fantastic looking invitations often with supplies that you probably have laying around the house.
Blue craft card, and a few extra bits n pieces will see you off to a great start creating your own arty invites. Get crafting today and will help with a little inspiration...
Boy Party invitation examples & tutorials
Liam's 6th Birthday Postcard Invitations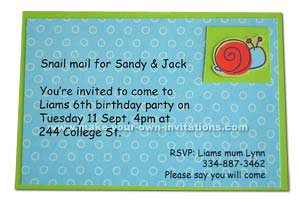 I made these Snail Mail Invitations for my son Liam's 6th Birthday. I had some green A5 cards and some old scrapbooking papers that I had bought on sale. I cut the A5 cards in half for the base of my invitation. I used MS Word to make the type with comic font and printed it straight on to the patterned scrapbook paper. I could fit 6 invites on to one scrapbook paper. I trimmed the text pieces and stuck them on to the green base cards.
To make the snail stamps I cut the snails out of the left over scrapbook papers (they were on the reverse side) and mounted them on to a square piece of green card and stuck them on to the finished invitation card.
The cards measure approx 4"x6"
Lynn
Auburn, AL
2nd Birthday Airplane Invitation tutorial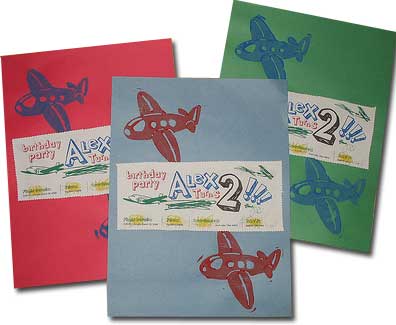 Avery and I kept busy during the blizzard and made some invitations for her brother's upcoming 2nd birthday party. He's was really into airplanes at the time.
Party invitation supplies
Foam stamps with a plane image
Construction paper
Paint and a plate
Inkjet print offs
Glue, beveled edge craft scissors,
Pointy font from James Beardmore
Airplane dingbats, Arsenal vector scribbles, primary colors, etc.
Making the invitation
Step One
First off, take your construction card and cut a card size to match your envelop. I used a mixture of blue red and green card stock.
Step Two
Squirt a blob of acrylic or poster paint onto a plate and spread it out a bit. Take your foam stamp and dip it in the paint. ensure it has even coverage. Stamp and impression of the plane in the top left corner and the bottom right corners of the card. Set the card aside to dry.
Step three
On a computer, set up the invitation information using a word processing tool like MS Word or similar. Find some free airoplane clipart on the internet to insert into your document.
We used the font Pointy to create the heading text. Trim and glue the info sheet to the invitation at the center.
Made by Craig Minch
Cleveland, OH, USA
Related party invitations