How to make Music Invitations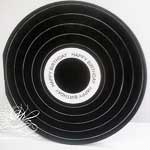 Planning a party of the musical sort. Perhaps the guest of honor loves music, listening to records or their ipod, is an aspiring singer or musician or maybe they love the movies like Grease, High School Musical etc.... Then these creative Record Invitations are exactly what you should make to lure the guests to the party.
This invite was created for the Invite challenge at the Cuttlebug Challenge blog.
Supplies Used:
Cuttlebug machine

Invitation embossing folder

Circle Nestabilities

Black & White Cardstock

Silver Gel Pen

Adhesive
How to make the invitation:
1. Fold black cardstock to create a 4 1/2" square. Die cut into circle shape using Nestabilities, being sure to leave the fold outside of the circle a little so that the front and back remain attached.
2. Using the circles in the Nestabilities set as a template, trace "grooves" onto card front using a silver gel pen.
3. Emboss the inside of the invite using the Invitation embossing folder.
4. The label was created in Adobe Illustrator, printed and then die cut with the smalled Nestability circle. Adhere.
Hand Made by Cassie Larson
For the Art of It