Homemade Sweet 16 Invitations
Welcome to our DIY invitation section for that milestone birthday event - The Sweet sixteenth. This very special birthday occasion for a teenage girl deserves the very best party invitations as it is truly a once in a lifetime event.
These party invitation ideas can also be used for the Mexican traditional Quinceañera, or 15th birthday celebration.
So where do you start when you are thinking of making a sweet 16th invite. If you know what the party theme is then of course your begin there. Otherwise you need to think girly girl, and think modern and upbeat. You may need some help from your daughter or her friends if it is a surprise party.
Great Ideas for sweet 16 invites
Photo invitations - take a photo of the birthday girl (or boy) and incorporate it into a photo invitation made with graphic design software like Illustrator or Adobe Photoshop. I find Photoshop elements is a handy program to use. See our photo invitation tutorial for an intro to making your own digital invitations with Photoshop.
I would have to say that one of the best things about using photo editing software is that you can print your invitations for around less than 16 cents per invite at a photo lab if you make a 4"x6" invitation. That is a great bargain when you have a low budget. That will leave you with more money to go towards food and entertainment.

Elegant styles are popular for sweet sixteen invites. When searching for clip art or rubber stamps to create a stylish invitation, Damask patterns or Baroque work really well. Swirls and paisley designs are also great for making grown up invitations.

Vintage and retro looking invitation designs will probably be wasted on a teenager of today's times. Stick with modern themes. Make CD invitations filled with their favorite songs. They will make a fabulous keepsake to look back on when the birthday celebrant is much older.

For luxury spa and makeup parties you can make a creative invitation to follow the theme. A card that looks like a makeup compact.

Create a little paper basket invitation or noodle box covered in patterned scrapbook papers. Slip a matching invitation inside it along with some candy to prepare the guests for the time to come. Add some inexpensive lip gloss or lipstick for the girls to enjoy.

Zebra, cheetah and other animal prints are great designs to use. Go for black and hot pink zebra stripes for something a little more girly. You can get faux textured patterns from your craft store. See some animal print invitations.

Decorate a mask for a masquerade, print on a scrap of white material for a toga party, give away hearts for a party thrown on Valentines day.
Unique sweet sixteenth invite ideas


DiY party purse invitations
A unique handbag purse made from cardstock and other crafty bits n pieces. Perfect for the little miss who has a love for all things girly girl.

Party CD sweet sixteen invitations
Monica compiles a cd of sweet 16 songs for the birthday girl and then creates a label complete with party details transforming it into a fabulous invitation for the big event.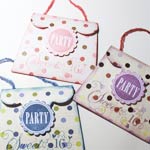 How to make sweet sixteen invitations
Jamie Dennis creates another version of a sassy purse invitation.
Sweet sixteen party ideas
Now that you have some great ideas for your party invitations it is time to start giving some thought to the party itself. We have found some great sweet 16 party themes at the sweet 16 party ideas website. They have theme ideas for all sorts of parties including Beach themes, dance parties, next top model, a masquerade ball and much more. You can also find some inexpensive party favor ideas for both the boys and the girls.